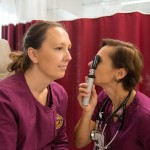 Accelerated Nursing BSN
Concordia's Accelerated Nursing program a fast path to your career as a licensed registered nurse. The Nursing Department Faculty are pleased to announce the development of a new 12-month, innovative, accelerated nursing curriculum. Pending completion of administrative processes, we expect to enroll the first 16-member cohort in January 2023.
The 2023 application cycle is open in NursingCAS.