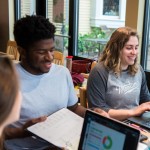 Special Topics Courses
Summer 2021
Join the conversation about race and racism.
Concordia is pleased to offer a series of special topic courses for undergraduate credit, related to the study of race and racism in our society. Each course will approach the subject of race through a different lens, giving learners the opportunity to think, reflect and share ideas from new perspectives in a safe and respectful forum. Courses are scheduled at convenient times and delivered in formats that align with busy schedules.

The four Special Topics courses are available, this summer only, at a reduced rate of $410 per credit.