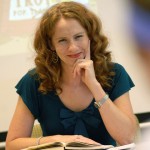 K-12 Teacher Resources
New Teacher Network
First Thursday of every month through April 1, 2021
FREE | via Zoom

The New Teacher Network is an ideal way for new K-12 teachers, one to four years into the field, to connect with peers, learn from each other, and share! We are pleased to offer a monthly opportunity for teachers to connect and share stories, ask questions, and address concerns. This is a safe space to celebrate, commiserate, and seek advice on a variety of topics, and it's FREE!

Teacher Talk!
Second Thursday of every month through April 8, 2021
FREE | via Zoom
Teachers are facing extraordinary challenges this fall. Whether you are teaching face to face, in a hybrid model, or in a distance learning environment, the responsibilities are great and the workload daunting. Join us in a virtual space where all teachers can come together and share their successes, challenges, tips and strategies.